The challenges in the current system of issue and use of the certificates amongst the stakeholders include rampant use of fake documents for exploiting Government benefits, enhanced paperwork for document verification, delay in the process for service delivery etc.
To overcome the above problems associated with paper-based documents, National Informatics Centre (NIC) has adopted Blockchain technology to build 'Certificate Chain' for secured storage and retrieval of such records. The main advantage of this Certificate Chain system is that the Certificate can be accessed online by any authorised person / institution and be assured that it is genuine and not tampered – all this without the need for an intermediary. This provides the necessary trust to the agencies which use these documents to ascertain the eligibility for providing benefit to the citizens.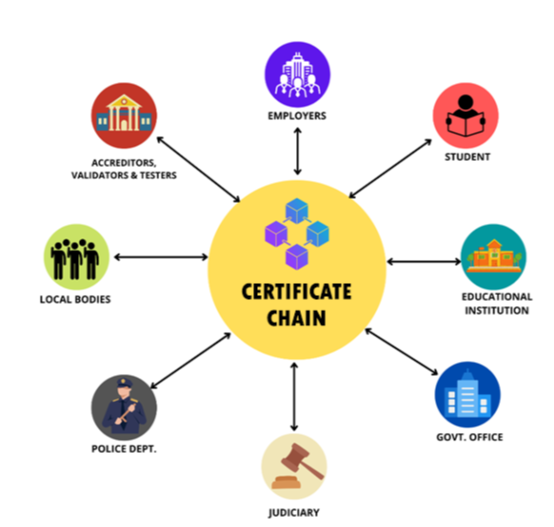 Certificate Chains are planned to be used for the admission to professional colleges, beneficiary schemes and recruitments in Karnataka for verification of eligibility.
The academic documents of Central Board of Secondary Education is being stored in the Blockchain, refer URL : https://cbse.certchain.nic.in
The Karnataka Secondary Education Examination Board and Karnataka Pre-University Education Examination Board are storing the SSLC and PUC marks card, refer URL : https://kseeb.karnataka.gov.in/nicblockchain_new
For More Information : Certificate Chain Concept Paper